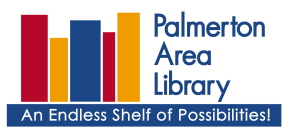 WELCOME
402 Delaware Avenue Palmerton, Pennsylvania 18071 * Phone 610-826-3424
* Email plapalm@ptd.net
Library Hours:
Sun: Closed; Mon, Tues, Wed: 10am - 7pm; Thurs, Fri: 10am - 5pm ; Sat: 9am - 4pm
Services

Inter-Library Loans - Through the ACCESS PA system, our local patrons (those residing in the Palmerton Area School District) may borrow books from other PA libraries at no cost.

Online searchable library catalog - Patrons may search for items, place a hold or renew books from their home computers.

Computers - Six computers with connections to the INTERNET are available for public use. Computer print-outs are $0.10 for a black and white copy, $0.25 for a color copy, and $0.40 for a two sided color copy.

Book Sales - Used books, CD's, videos and puzzles are on sale year-round. (Donations of books are always welcome.)

Curbside Service - The library offers the option of having all items that are placed on hold to be checked out and picked up at curbside by calling the library at 610-826-3424 to set up a time and date for pickup.

Children's Programs - Story Time is held on Fridays at 10:30AM during the school year. Additional story times and hands on programs for preschoolers through teen occur throughout the month. Please check for program announcements.

Summer Reading Program - Hands on and take home activities to inspire a love of reading. Programs for all ages. New dates and themes are announced each summer.

Public and Private Meetings - Local non-profit groups may schedule meetings in the Library Conference Room or the Gallery. Fees are negotiable.

Memorial Books - Books may be purchased for the Library collection to honor a person or occasion.

Photocopier - Copier is for public use at $0.10/copy for black and white, $0.25/copy for color, and $0.40 for two sided color copy.

Fax service - available to the public for $1.00 per page with a $5.00 maximum charge.

Friends of the Library - They sponsor programs and fundraisers for the good of the library. Call the library for more information about joining the Friends.

Unleashed - WiFi Hot Spot with Free Internet Access for PenTeleData Customers.

The Palmerton Area Library Association is supported by the Palmerton Area School District and by the following municipalities: Palmerton Borough, Bowmanstown Borough, Lower Towamensing Township and Towamensing Township.