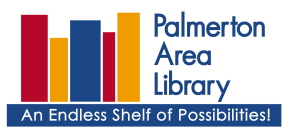 WELCOME
402 Delaware Avenue Palmerton, Pennsylvania 18071 * Phone 610-826-3424
* Email plapalm@ptd.net
Library Hours:
Sun: Closed; Mon, Tues: 10am - 8pm; Wed, Thurs, Fri: 10am - 5pm ; Sat: 9am - 4pm
Services

Inter-Library Loans - Through the ACCESS PA system, our local patrons (those residing in the Palmerton Area School District) may borrow books from other PA libraries at no cost. Our local cardholders will be provided ACCESS stickers entitling them to free service at all other participating libraries. ACCESS cardholders from other libraries are welcome here.

Online searchable library catalog - Patrons may search for items, place a hold or renew books from their home computers.

Computers - Six computers with connections to the INTERNET are available for public use. Computer print-outs are $0.10 for a black and white copy and $0.25 for a color copy.


Book Resales - Used books, CD's, videos and puzzles are on sale year-round. (Donations of books are always welcome.)

Children's Programs - Story Time for pre-school children is held Fridays during the school year at 10:30 A.M. Programs for older children will be announced.

Summer Reading Program - During the months of June and July programs will announced for children up to age 12.

Public and Private Meetings - Local non-profit groups may schedule meetings in the Library Conference Room or the Gallery. Fees are negotiable.

Memorial Books - Books may be purchased for the Library collection to honor a person or occasion.

Photocopier - Copier is for public use at $0.10/copy for black and white and $0.25/copy for color.

Fax service - available to the public for $1.00 per page with a $5.00 maximum charge.

Teen Advisory Group - meets regularly at the library for teens ages 12 to 18. See the librarian for more details.

Friends of the Library - Meet four times per year. They sponsor programs and fundraisers for the good of the library. Call the library for more information about joining the Friends.

Unleashed - WiFi Hot Spot with Free Internet Access for PenTeleData Customers.

The Palmerton Area Library Association is supported by the Palmerton Area School District and by the following municipalities: Palmerton Borough, Bowmanstown Borough, Lower Towamensing Township and Towamensing Township.