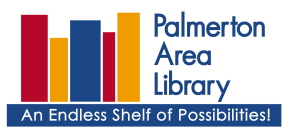 WELCOME
402 Delaware Avenue Palmerton, Pennsylvania 18071 * Phone 610-826-3424
* Email plapalm@ptd.net
Library Hours:
Sun: Closed; Mon, Tues, Wed: 10am - 7pm; Thurs, Fri: 10am - 5pm ; Sat: 9am - 4pm
The mission of the Palmerton Area Library is to provide quality materials and services which fulfill educational, cultural, and recreational needs of the entire community in an atmosphere that is welcoming and respectful.


Government
View the links below to find information and links to the state government and local government. Local borough and township websites include ordinances and services.
Pennsylvania- www.pa.gov The Pennsylvania state government web site links residents to links to assist the residents to find a job, renew their driver license, life in the state, and contacts for the representatives
Carbon County- http://www.carboncounty.com/ The Carbon County Commissioners have provided funding and approval for this site as a public service to the residents of Carbon County.
Palmerton Borough - http://www.palmertonborough.com The Palmerton Borough site provides information about the community and the services offered to the public.
Towamensing Township - http://www.towamensingtownship.com/ Towamensing Township provides residents with information about the township including ordinances and services.
Lower Towamensing Township - http://www.lowertowamensing.org/ Lower Towamensing provides the residents of the township with local information, links, and lists of services.
Bowmanstown Borough- http://bowmanstown.org Bowmanstown provides the residents of the township with local information, links, and lists of services.

| NEW DVD'S| NEW BOOKS| | | PHOTO GALLERY | eBOOKS | | CALENDAR OF EVENTS |